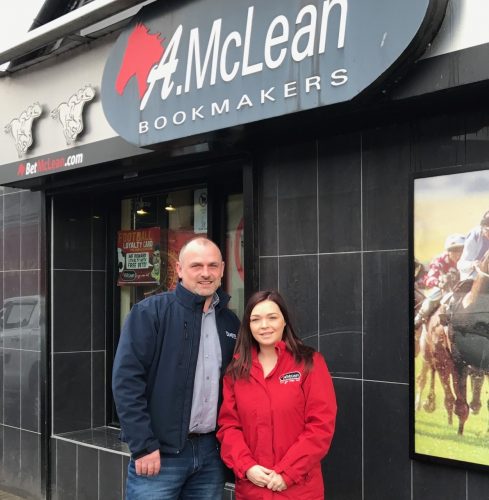 DUNLOY FATHER AND SON SHARE UNITED'S WEMBLEY JOY
Dyed-in-the-wool Manchester United fans Brendan Crawford and his son Aaron were among the 85,000 Wembley crowd to watch their heroes triumph in Sunday's ECL Cup Final after winning a radio draw organised by McLean Bookmakers.
They were sitting just 14 rows back when Zlatan Ibrahimovic headed home the goal at the United end of the stadium which gave the Reds a 3-2 victory over Southampton.
Brendan, 44, from Dunloy, and son Aaron, 16, a pupil at St Louis grammar school, Ballymena, jumped for joy as Ibrahimovic ran towards the corner flag to be mobbed by jubilant team mates.
Brendan's wife Bernadine, a school secretary, won the match tickets, as well as flights, accommodation and £250 spending money, in a Cool FM radio competition organised by McLeans, Northern Ireland's largest independent bookmaking chain with more than 60 shops.
But she immediately handed over prize to her husband, a life-long United supporter, and son.
Bernadine was shopping in Belfast when she heard she had won the draw. She was unable to contact Brendan who had an appointment with the barbers, and instead called Aaron.
She couldn't believe her luck. Just days earlier, she overheard a conversation between the pair as they watched Jose Mourino's men on TV, when Brendan
spoke of the possibility of travelling with his son to another Manchester United game
They had viewed the Reds live twice before, both times against Arsenal, once at Old Trafford and a second time when they found themselves sitting among Gunners supporters at the Emirates. But they were seated among their own on Sunday.
Brendan, a contracts manager with a Dunloy construction firm, had been to Wembley before. He was with a brother. But it was only to see the iconic old stadium being demolished, before being re-built.
He is an occasional punter, but admitted his luck was really in when Bernadine revealed she had won the sort of prize Manchester United's ticketless Northern Ireland-based fans can only dream about.
Brendan, who was presented with his tickets by McLean's marketing manager Megan McCormick, said: "The atmosphere was absolutely brilliant. We were there an hour and a half before the kick off to soak up the atmosphere, and although I've watched United play better football, the result was what mattered.
"I couldn't believe how close we were to the pitch. The United fans outnumbered Southampton's by 60-40% and I suppose they felt very unlucky after coming from two down to level the match. But Ibrahimovic is some player. That goal was something else."
---