North West 200 record holder Alastair Seeley, and the radio and TV sports pundit Liam Beckett, will be the key guests at a special talk-in for bike fans on the eve of the meeting's main race day next week.
It will take place outside McLean Bookmakers shop at Main St, Bushmills on Friday, May 12 at 4.30.
The event – a major question and answer session which will provide revealing, behind-the-scenes insight into one of the most spectacular motorcycling gatherings anywhere in the world – is being hosted by the broadcaster Adrian Logan.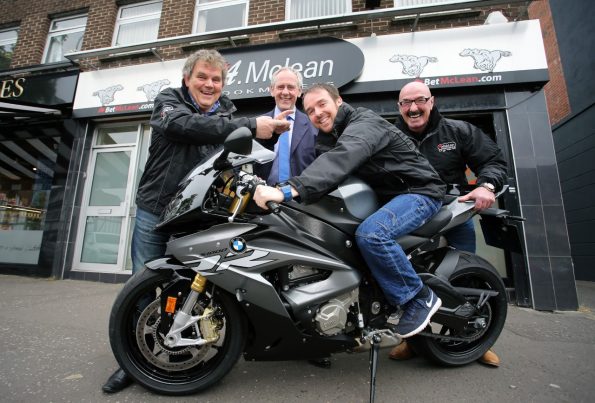 Seventeen times winner Seeley and Becket, once the right hand man to the late Robert Dunlop, are among two of the biggest characters on duty throughout the week of the North West.
McLean Bookmakers, the largest independent chain in Northern Ireland with more than 60 shops, are among the main headline sponsors with the chicane at Juniper Hill, known as the McLean Chicane, one of the most tightest and dramatic stretches on the Portstewart-Coleraine-Portrush track.
"Wee Wizard" Seeley, from Carrickfergus, who over took Robert Dunlop's North West record last year, said he was delighted to be taking part in the chat show.
He declared: "Inter acting with the fans is every bit as important as the racing itself.
"The North West crowds are probably as knowledgeable as anywhere, but their thirst for information never ceases to amaze me, and with Liam and Logie on the stage as well, this is sure to be a well-informed debate, and no doubt pretty hilarious as well."
Beckett, who was Robert Dunlop's chief mechanic for his 15 victories on the Triangle circuit, said he is expecting to face a fairly rigorous examination from Logan.
He declared: "The North West is right up there as my favourite annual event, and hopefully this chat show will add to the sense of occasion. It really is a place apart, in many ways a place like no other.
"The talk show is intended to be a fairly informal affair, with plenty of fun and craic, but Alastair and I will take whatever questions the fans want to fire at us, and Logie will be on hand to make to make sure everybody gets a fair say."
Signed copies of Seeley's DVD recording his North West heroics, and Beckett's best-selling autobiography, "Full Throttle", about his years travelling with Robert Dunlop, will be handed out to some of the fans.
McLean's sponsor the first Supersport race on Saturday.
Broadcaster Logan, a close friend of Seeley and Beckett, and who is also heavily involved in much of the off-track comings and goings throughout the duration of the North West, added: "There is very little Alastair and Liam don't know about the motor cycle racing business, and this is a brilliant opportunity
to really put them on the spot. It has the makings of being a real show stopper."
---