Charity Fundraising
---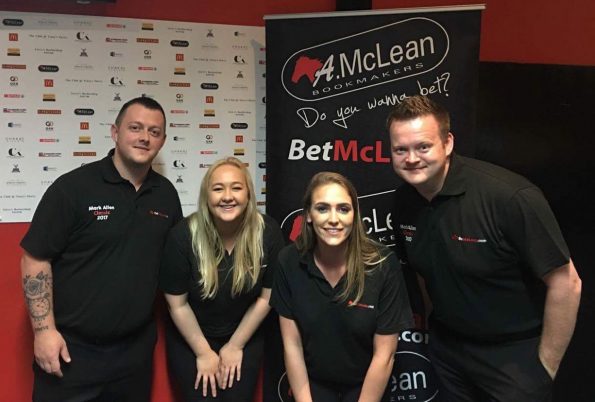 At McLeans, we have always had a very good relationship with Professional Snooker player Mark Allen. This June we got on board with his latest charity fundraising venture as the main sponsors of the "Mark Allen Classic" Pro-am. Here he is pictured alongside Professional player Shaun Murphy and two McLeans representatives in the midst of all the action.
---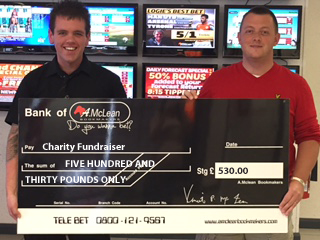 As part of Mark Allen's efforts to raise money for Ronan who suffers with cerebral palsy, we donated £10 for every birdie he and his other fundraisers bagged in their golf event. They hit 53 birdies and so we donated £530 to the cause. Altogether, they managed to raise an incredible £26,500! Well done Mark!
---
We gave a number of NI Sporting personalities a £50 free bet to use on the World Cup with all of the winnings being nominated to the NI Childrens Hospice. Unfortunately, only one of them won their bet … Stephen Watson. We bumped his winnings up to £500 and it was donated to the great local charity.
---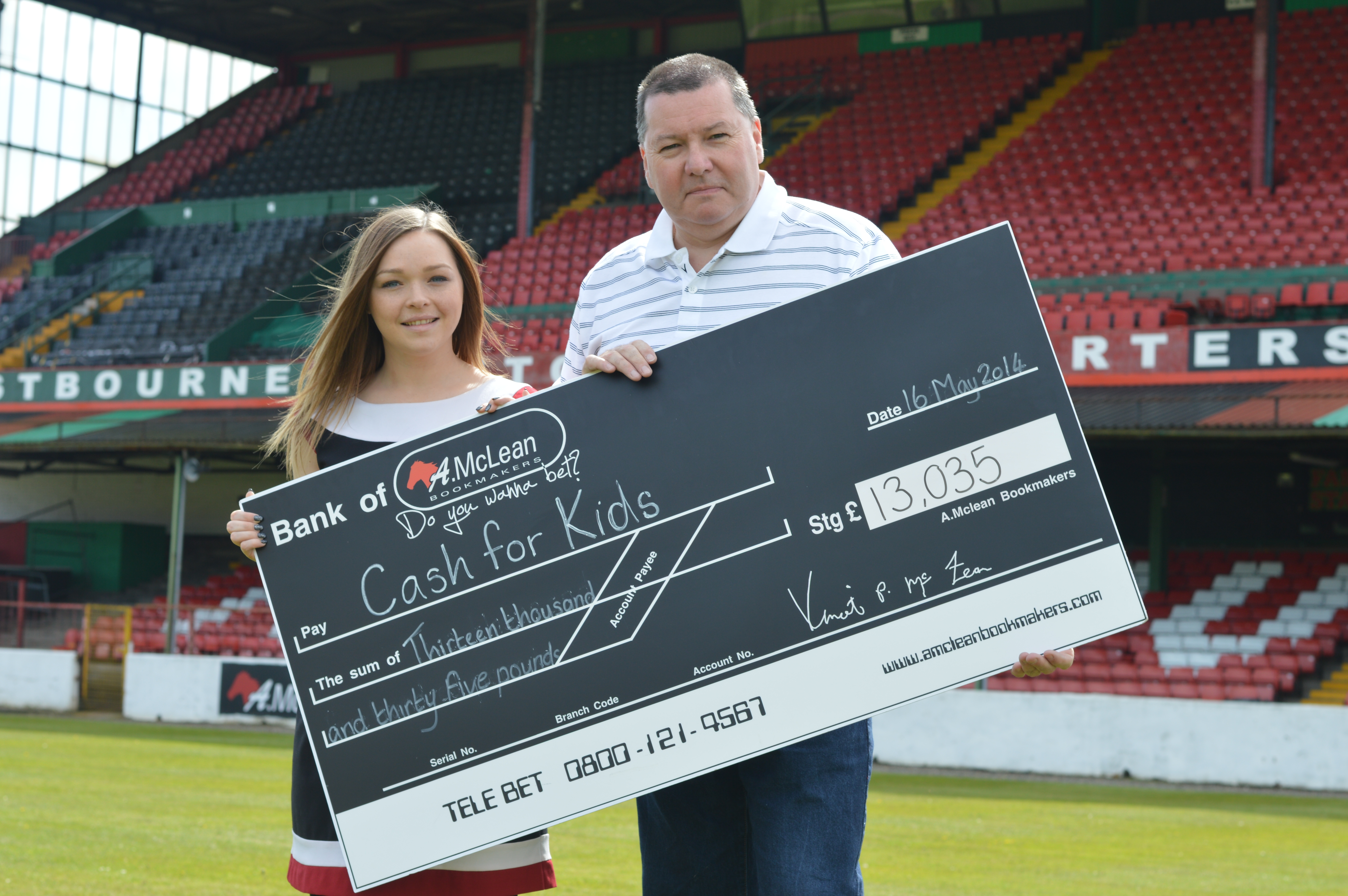 Our latest donation to Cash for Kids NI … that' over £13,000 in the last year! There are many ways we raise money for the local charity..
– The weekly £100 free bet placed on the Cool Saturday Show on Cool Fm every Saturday afternoon (ever listen?)
– FREE Celebrity bets will all winnings going to the charity
– Sponsorship to the Cool FM crew for Marathons, wight loss etc
---
Our staff volunteering in Santa's Grotto to offer the NI Cancer Fund for Children a hand…
---
Our 'Hug in a Mug' event will take place in all of our stores on the 18th & 19th of October! Come down for some tea, coffee and cakes & help us raise money for this amazing local Charity!
PRESS RELEASE
A MCLEAN GETS THE KETTLE ON FOR CHILDREN'S CANCER CHARITY
THE bets are on as A McLean races to beat its fantastic £6k fundraising total from last year as it gets ready to take part in NI Cancer Fund for Children's Hug in a Mug campaign.
The bookmakers held coffee mornings and fundraising events in 62 stores across the province last year and raked in a phenomenal £6k for NICFC which provides practical, emotional and financial support for local families affected by cancer.
The money raised last year has helped support families affected by cancer at home, in hospital and at NICFC's respite facility, which from Spring 2014 will take place from Daisy Lodge. When it opens its doors in the Spring, the facility will allow NICFC to provide free therapeutic short breaks to up to 500 families per year affected by cancer. Money raised through this year's campaign will help NICFC deliver this service.
As building work on Daisy Lodge progresses, A McLean's marketing manager, Megan McKeown said she is delighted to see that the company's fundraising has materialised into something wonderful and is urging other businesses to sign up and hold a Hug in a Mug coffee morning so the charity can provide short breaks for families.
"We really surprised ourselves last year by how well we did with Hug in a Mug. All the staff really gave it their all and our customers really dug deep. In addition to coffee mornings during which customers were encouraged to donate just what they could, some stores also held prize draws and competitions which really helped bolster our fundraising.
"All the money we've raised stays right here in Northern Ireland and is used to help local families which is an added incentive. I would urge any businesses currently considering holding a Hug in a Mug event to get baking and get the kettle on – your cup of coffee or tea could make a huge difference to one of the many local families here affected by cancer," she said.
By simply getting work colleagues or friends together for a hot drink and some delicious cakes, you can make an important difference this Autumn to the many families here in need of an NI Cancer Fund for Children (NICFC) therapeutic short break.
Sign up to Hug in a Mug today by contacting Allison on 028 9080 5599 or info@nicfc.com.
Ends
Caption:
A McLean marketing manager Megan McKeown (left) and NI Cancer Fund for Children's Amanda Steele are urging businesses to sign up to the charity's Hug in a Mug coffee morning. A McLean raised a phenomenal £6k for the charity by holding a Hug in a Mug event in every store across the province. This year they are aiming to smash that record and are challenging other businesses to follow suit.
---
Since we started working with the Northern Ireland Cancer Fund for Children last year we have given the charity a massive £10,000! Thank you to our staff and valued customers for all of your help in reaching this massive total!
---
A team of 70 people copleted the Cash for Kids "5k a Day" challenge to raise money for the local charity. McLeans got behind the cause and donated £2,500 to the challenge total. Together a total of £13,669.88 was raised.
---