Fantasy Football 2018/19
Wednesday, July 18th, 2018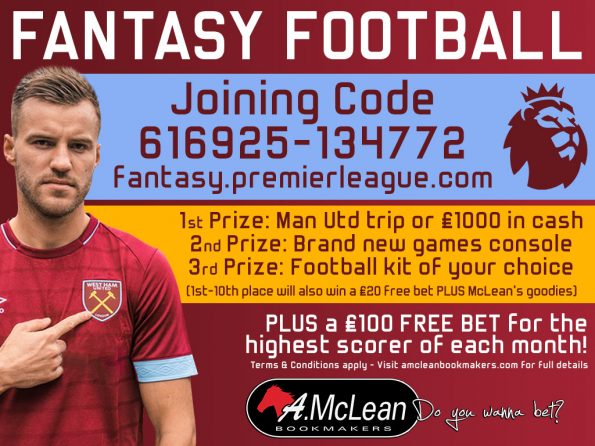 CLICK HERE TO SIGN UP & GET STARTED
Terms & Conditions
Free bets can be used via our Telebetting service (0800 121 4567), in one of our 60+ shops, at www.betmclean.com or via the BETMCLEAN APP.
The "Monthly Top Scorer" is the person who has the highest score in that month alone (your overall score does not come into account).
The same goes for the "Monthly Lowest Scorer".
Stakes are non-refundable.
You can only enter one team.
If there is a "Dead Heat" where more than one person shares the top score, the prize will be split evenly among all winners.
Prizes are available to UK & Ireland residents only.
Entries into the league will be accepted until Friday the 11th of January 2019. The League will be closed to new entries after this point.
Email any queries to: mckeownmegan@hotmail.co.uk