A McLean Bookmakers – News
---
Bet McLean.com is to sponsor the Northern Ireland Football League Cup for the next three seasons.
Managing director Paul McLean made the announcement at the National Stadium at Windsor Park, Belfast where he confirmed the company's continuing financial commitment for local sport.
He said: "We are delighted to be able to support local sport, and this is why the League Cup is such a good fit, as the teams involved are from all levels of football in Northern Ireland."
First round ties are due to take place on August 5 with the final being televised live by SKY TV next February.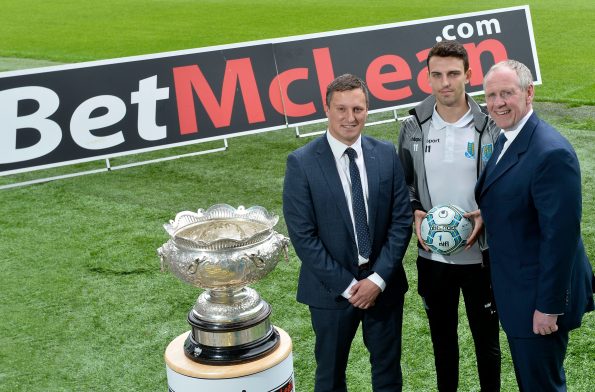 Representatives from several Irish League clubs attended the official announcement and opening round draw which was conducted by Mr McLean and Conor McCluskey, who scored the second of Ballymena United goals in the 2-0 victory over Carrick Rangers in last season's final.
Andrew Johnston, secretary of the Northern Ireland Football League said that by attracting a progressive sports orientated company like Bet McLean.com sent out another strong message that football in Northern Ireland was worth investing in.
He added: "We are delighted to have secured a long term sponsorship agreement with Bet McLean.com who have brought into our vision how we want to grow local football, in particular the League Cup, over the next three years."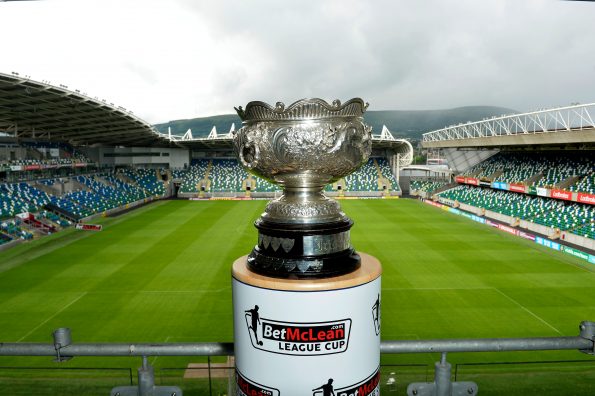 ---
North West 200 record holder Alastair Seeley, and the radio and TV sports pundit Liam Beckett, will be the key guests at a special talk-in for bike fans on the eve of the meeting's main race day next week.
It will take place outside McLean Bookmakers shop at Main St, Bushmills on Friday, May 12 at 4.30.
The event – a major question and answer session which will provide revealing, behind-the-scenes insight into one of the most spectacular motorcycling gatherings anywhere in the world – is being hosted by the broadcaster Adrian Logan.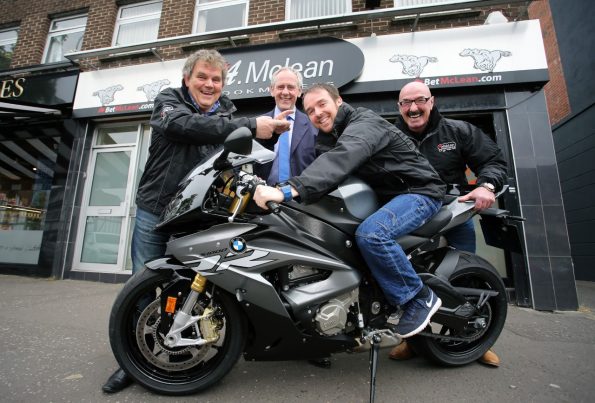 Seventeen times winner Seeley and Becket, once the right hand man to the late Robert Dunlop, are among two of the biggest characters on duty throughout the week of the North West.
McLean Bookmakers, the largest independent chain in Northern Ireland with more than 60 shops, are among the main headline sponsors with the chicane at Juniper Hill, known as the McLean Chicane, one of the most tightest and dramatic stretches on the Portstewart-Coleraine-Portrush track.
"Wee Wizard" Seeley, from Carrickfergus, who over took Robert Dunlop's North West record last year, said he was delighted to be taking part in the chat show.
He declared: "Inter acting with the fans is every bit as important as the racing itself.
"The North West crowds are probably as knowledgeable as anywhere, but their thirst for information never ceases to amaze me, and with Liam and Logie on the stage as well, this is sure to be a well-informed debate, and no doubt pretty hilarious as well."
Beckett, who was Robert Dunlop's chief mechanic for his 15 victories on the Triangle circuit, said he is expecting to face a fairly rigorous examination from Logan.
He declared: "The North West is right up there as my favourite annual event, and hopefully this chat show will add to the sense of occasion. It really is a place apart, in many ways a place like no other.
"The talk show is intended to be a fairly informal affair, with plenty of fun and craic, but Alastair and I will take whatever questions the fans want to fire at us, and Logie will be on hand to make to make sure everybody gets a fair say."
Signed copies of Seeley's DVD recording his North West heroics, and Beckett's best-selling autobiography, "Full Throttle", about his years travelling with Robert Dunlop, will be handed out to some of the fans.
McLean's sponsor the first Supersport race on Saturday.
Broadcaster Logan, a close friend of Seeley and Beckett, and who is also heavily involved in much of the off-track comings and goings throughout the duration of the North West, added: "There is very little Alastair and Liam don't know about the motor cycle racing business, and this is a brilliant opportunity
to really put them on the spot. It has the makings of being a real show stopper."
---
Paul Hyland Jnr improved his record to 14-0 after blitzing Karoly Gallovich on Saturday night. Headlining at the Europa Hotel, Hyland needed just 41 seconds to remove his Hungarian opponent and push closer to a crack at the British Lightweight Title.
Unbeaten Gallovich arrived with 7 wins but Hyland was in no mood to hang about and landed a sharp uppercut early on that wobbled Gallovich, before a follow-up flurry decked him heavily. Referee Hugh Russell Jnr counted him out, much to the delight of the home fighter's enthusiastic supporters.
"I'm surprised it didn't go a bit longer but the game plan was to work behind my right and he just walked on to the shot". said Paul. " Hopefully we can get this British Title on track now. I'm confident i can beat whoever i fight"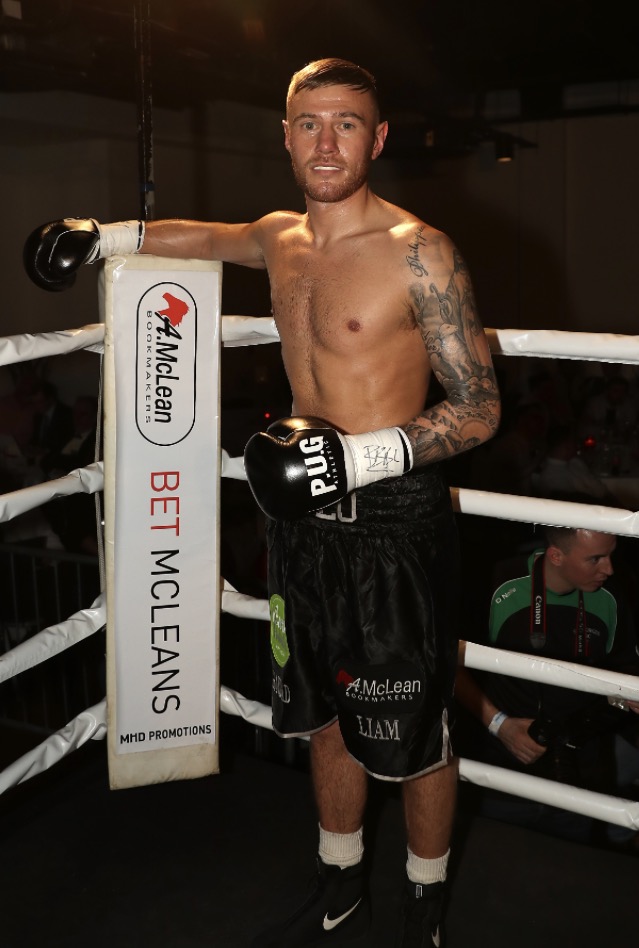 ---
At McLeans we are proud to be an associate sponsor of the 2016 EBA Nations Cup of Pool, an event we have been associated with for the past few years. The event was held in the Lodge Hotel in Coleraine with teams competing in the following categories; Under 15, Under 18, Under 23, Men's, Ladies, Senior's (over 40) and Masters (over 50).
---
---
---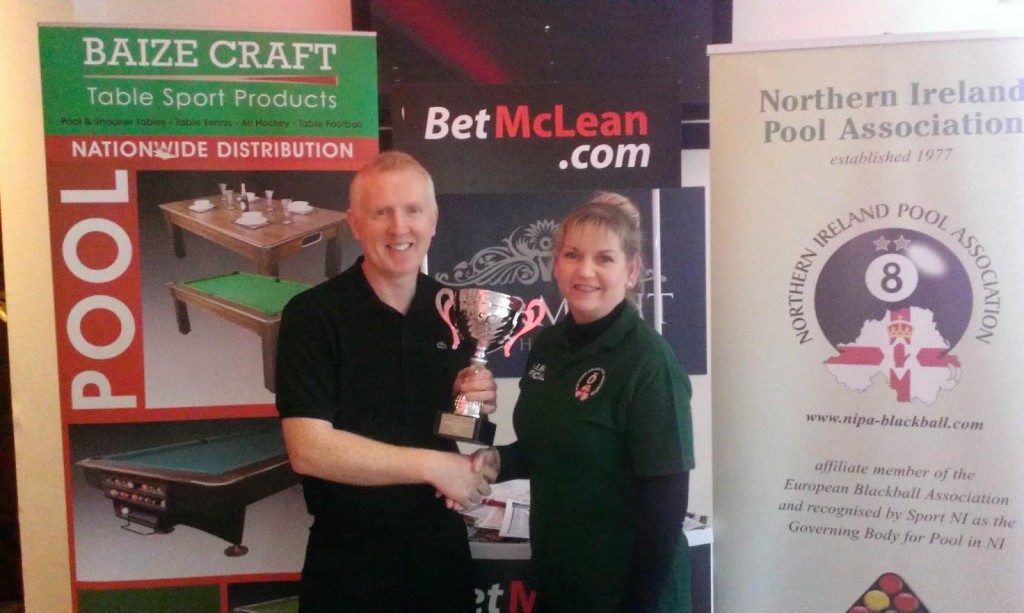 We were the headline sponsors of the Northern Ireland Individual Pool Championship which were held in the Stormont Hotel on the 23rd – 25th January.
---
We were very impressed with Michael Conlan's performances at the 2014 Commonwealth Games in Glasgow and were proud to see one of our own win a Gold Medal. We thought we deserved to celebrate, so we sent him an on overnight trip for two to The Merrion in Dublin. Good luck in Rio if you choose to hold off on turning Professional …
---
Refundinho is going on tour while he is in Northern Ireland during the 2014 World Cup. Have a look to see where he has been so far and keep an eye out for him …
---
Our two lucky winners of VIP Hospitalty & all access all areas tickets to the Northwest 200 2014 … not to mention a passanger pillion ride around the North West race circuit!
Keep an eye out for our competition next year…
---
McLeans hosted their first ever Golf Day in the lofty surroundings of Royal Portrush in  early April and 16 hardy souls agreed to go along and empty out their supply of Golf Balls. One of the most prestigious Golf Courses not just in Ireland but indeed the world gave one and all a very warm welcome.
We had luminaries such as Joel Taggart and Brian Johnson from BBC, Trevor Jordan from UTV, Pete Snodden from Cool FM. As a golfer he is some DJ. We also had local Sports Personality Liam Beckett and larger than life Albert Kirk. Throw in David Young from the Press Association and Joe Kearney from the Daily Mirror and Stephen Grimason Head of Communications at the NI Executive ans you can see it was quite  a line up. Cahal Dervan Sports Editor of the Sun made the long journey from Dublin to be with McLeans on a very special day.
The weather was kind. Former Head of the PA Deric Henderson who was chief organiser rang and sorted that out much to the delight of Adrian Eastwood.
It seems the 5th at Royal Portrush, the White Cliffs is an especially difficult hole. Not so for yours truly.  Logie birdied it in spectacular fashion. I think I can retire now.
Later in the evening we were joined by the Managing Director of McLeans, Paul McLean, and Head of Marketing Megan McKeown.
The overall winner on a magnificent day was our host, the Capt of Royal Portrush Robery Clark. He asked me to keep his points total a secret. In second spot was Stephen Grimason with third place going to Eamonn Logue the local PRO  at the Hilton. Prizes included golf at Portmarnock and weekend breaks in the Merchant. Quality all the way and everyone who took part won a McLeans top of the range umbrella and  a bottle of Black Bush.
Everyone was treated to a superb day rounded off with a magnificent meal with a few tricks as always with cameraman supreme Albert Kirk. A day to remember and a Golf Day with more than  a touch of class.
Now I am unavailable for a few days. I am off to Portrush to look for all those balls.
---
A.McLean Bookmakers are the new sponsors of the Lurgan Celtic FC away kit! We also give out a £25 free bet to the man of the match in each of the team's games … so get your skills out boys!
---
McLeans have sponsored local boxers Daniel "Insane" McShane & James Tennyson "The baby faced Assassin" in their upcoming fights in the Odyssey on the 19th October. They will be featuring before the Frampton v Parodi fight.
---
Our 'Hug in a Mug' event will take place in all of our stores on the 18th & 19th of October! Come down for some tea, coffee and cakes & help us raise money for this amazing local Charity!
PRESS RELEASE
A MCLEAN GETS THE KETTLE ON FOR CHILDREN'S CANCER CHARITY
THE bets are on as A McLean races to beat its fantastic £6k fundraising total from last year as it gets ready to take part in NI Cancer Fund for Children's Hug in a Mug campaign.
The bookmakers held coffee mornings and fundraising events in 62 stores across the province last year and raked in a phenomenal £6k for NICFC which provides practical, emotional and financial support for local families affected by cancer.
The money raised last year has helped support families affected by cancer at home, in hospital and at NICFC's respite facility, which from Spring 2014 will take place from Daisy Lodge. When it opens its doors in the Spring, the facility will allow NICFC to provide free therapeutic short breaks to up to 500 families per year affected by cancer. Money raised through this year's campaign will help NICFC deliver this service.
As building work on Daisy Lodge progresses, A McLean's marketing manager, Megan McKeown said she is delighted to see that the company's fundraising has materialised into something wonderful and is urging other businesses to sign up and hold a Hug in a Mug coffee morning so the charity can provide short breaks for families.
"We really surprised ourselves last year by how well we did with Hug in a Mug. All the staff really gave it their all and our customers really dug deep. In addition to coffee mornings during which customers were encouraged to donate just what they could, some stores also held prize draws and competitions which really helped bolster our fundraising.
"All the money we've raised stays right here in Northern Ireland and is used to help local families which is an added incentive. I would urge any businesses currently considering holding a Hug in a Mug event to get baking and get the kettle on – your cup of coffee or tea could make a huge difference to one of the many local families here affected by cancer," she said.
By simply getting work colleagues or friends together for a hot drink and some delicious cakes, you can make an important difference this Autumn to the many families here in need of an NI Cancer Fund for Children (NICFC) therapeutic short break.
Sign up to Hug in a Mug today by contacting Allison on 028 9080 5599 or info@nicfc.com.
Ends
Caption:
A McLean marketing manager Megan McKeown (left) and NI Cancer Fund for Children's Amanda Steele are urging businesses to sign up to the charity's Hug in a Mug coffee morning. A McLean raised a phenomenal £6k for the charity by holding a Hug in a Mug event in every store across the province. This year they are aiming to smash that record and are challenging other businesses to follow suit.
---
To celebrate the launch of our new APP we will be going around a number of the bars in Northern Ireland giving away a load of freebies!
Today, we visited the bars at the Glentoran ground. Fans were lucky enough to land themselves free bets, polo shirts, beanies & bottle openers!
Look out for us in your local bar over the next few months!
---
Our Arches Branch in Belfast recently underwent a facelift. We help the Grand Opening of the newly improved shop on Saturday 1st June. We were joined by the boys from Glentoran who just happened to have the Irish Cup with them! It was a great day for all Glentoran fans!
---
Paul McLean at the Glentoran Reception in the City Hall!
---
A team of 70 people copleted the Cash for Kids "5k a Day" challenge to raise money for the local charity. McLeans got behind the cause and donated £2,500 to the challenge total. Together a total of £13,669.88 was raised.
---
---
---
20th December 2012
McLean's announces new support package for Glentoran FC Glentoran FC has agreed a significant financial and business support package with McLean Bookmakers which will secure the long term viability and sustainability of the East Belfast Club, according to Club Chairman Terence Brannigan.
Unveiled as a sponsor at the start of the 2012/13 campaign on a three-year deal, McLean's has committed to providing an additional and significant financial and business investment to build upon the progress made at the Club and secure long term cash flow management with a view to its relocation in a new state of the art stadium in East Belfast.   Kevin Milhench, who has over thirty years experience at senior management level within the Northern Ireland business community, will join the Glentoran Board as part of the deal.
Commenting Glentoran FC Chairman Terence Brannigan said:
Today's announcement is great news for Glentoran Football Club as it ensures our long-term viability and sustainability.  We have previously undertaken some restructuring and whilst we have made significant strides in changing our business practices, recent events have highlighted that this process is very much a work in progress. McLean's financial package and business support, which is ring-fenced to sit outside of the sponsorship agreement, is integral to ensuring a successful resolution to our cash flow management and securing the long term future of the Club.
As part of this package we are looking forward to Kevin Milhench joining the Board to support our on-going restructuring and, with his skill set in commercial property, advising and supporting the Club in securing an exciting new stadium in East Belfast.
McLean's, which employs over 300 people across 61 shops, is the largest independent bookmakers in Northern Ireland and according to Managing Director Paul McLean, this announcement is good for the Club and for the local community.
Commenting, Paul McLean said: Over many years we have made a significant investment in East Belfast, whether it's through our nine offices which employ some 60 local people or our recent sponsorship of Glentoran Football Club.  This new package is an extension of our continued investment in the East of the City and we are honoured to support and build a sound future for Glentoran which is so cherished within the local community.
We believe that Glentoran has a very bright future, we are excited by the potential of rebuilding the Club from the bottom up and we look forward with confidence to a successful future both on and off the pitch.
---
We held two "Hug in a Mug" days in November in association with the Northern Ireland Cancer Fund for Children. Thanks to the hard work from our staff and your generous donations, together we managed to raise £4,500 for this great local charity.
Thank you for your support and generousity!
---
---
With 52 International caps and 476 appearances for QPR, many former teammates of the late Alan McDonald are taking part in a game to honour his memory and launch a charity initiative in his name.  Keith Gillespie and Mal Donaghy are part of the Northern Ireland legends team which will face QPR legends at Seaview on 10th September.  The game is being sponsored by local betting firm McLean's bookmakers and used to launch the Alan McDonald Trust, a cross-community sports programme for disadvantaged and disabled children.
The teams will be managed by Pat Jennings and Gerry Francis and contain friends and former teammates of the late Northern Ireland and QPR defender, including members of the '82 and '86 World Cup squads such as Gerry Armstrong and Sammy McIlroy.  More recent teammates including Jim Magilton, Iain Dowie and QPR's Ray Wilkins will also be taking part in the game.
The Alan McDonald Trust has been set up to help disadvantaged and disabled children in Belfast and beyond by providing facilities and projects that will have a positive and dynamic effect on their lives through participation in sport.
The game starts at 7.30pm and tickets can be purchased at the Irish FA and Crusaders FC Social Club, Adults £10; Concession £7.
---
Pictured
GAA legends Steven McDonell, Seamus McEnaney and Brendan Devenney join McLean's tipster Adrian Logan for an expert panel discussion looking forward to the All Ireland semi final
Semi final is case of whether Cork has guile to breakdown Donegal – Devenney
As Donegal and Cork get set to face each other in this weekend's All Ireland semi final, three senior GAA figures give their views at an event hosted by McLean's bookmakers, the largest independent bookmakers in Northern Ireland.
Donegal's record points scorer and BBC pundit Brendan Devenney was joined by Armagh's All Ireland Winner and All Star Steven McDonnell and former Meath and Monaghan Manager Seamus McEnaney at an event hosted by McLean's tipster and BBC pundit Adrian Logan.
Who do you think will win the semi final, Cork or Donegal?
Brendan: I think Cork will go into the game as slight favourites, and rightly so, but Donegal are very close behind them.  Cork has the experience, having won the All Ireland two years ago and having potentially suffered from the 'year off' syndrome last year they've bounced back this year.  Cork has possibly the best squad in Ireland but in saying that the game is still there to be won and it's almost a 50/50 call.
The most interesting aspect of the game will be whether Cork has the guile to break down Donegal.  They apply pressure all the time and are in your face defensively; Cork will need patience as once Donegal get set within the 45 they are difficult to crack.  Training will be key to this and I'd imagine the coaches will be preparing Cork for such a situation.
Seamus: It's going to be a very tight game.  As Brendan mentioned Donegal has a system which is very hard to get through but Cork has some big men, I think 13 of their 15 are over 6 feet tall, so they may be able to shade the physical battle.  It may take a replay to settle this tie and while my heart says Donegal, my head says Cork.
Steven: It's Cork for me; overall they are the best equipped team to win the All Ireland.  Donegal may get some joy from the half forward line, dragging a possibly ageing Cork line about the pitch but they won't have come up against forwards of the quality of Cork's.  They are so clinical, take even half chances and also have the ability to mix the game up if needs be.  I think this forward line will fire Cork to the final.
Are there any players you expect to stand out?
Brendan: For Donegal the important thing is the system they play rather than any individual players.  If you get a team of fit players buying into a system like the Donegal team has then it can produce excellent results.  In saying that there have been some massive performances right throughout the team but I don't think I could pick out anyone individual, they've all been great, from back to front.
Seamus: Cork has a very tall forward line in Colm O'Neill, Ciaran Sheehan and Daniel Goulding who will prove difficult to mark.  They also have serious pace in Paul Kerrigan, Aidan Walsh and Paddy Kelly.  Where I think Donegal may have some joy however is if they drop the full backs in as Cork may not be good enough on the ball to play through them.
Steven: The key player for Donegal will be Mark McHugh; it will be interesting to see whether Cork allows him the freedom he's had in previous games.  For Cork it's Colm O'Neill; he missed all last year through injury but is proving to be a lethal finisher this season and if Cork get enough ball to him he will punish Donegal.
Finally where do you see the game being won or lost?
Steven: I think the key for Cork will be to pounce early and set scoring targets during the game.  They can't allow Donegal to get into the lead because they're so well organised and it will become more and more difficult to break them down.
Brendan: Yeah that's a fair point.  If Donegal gets into the lead, with their system it also becomes psychological for the other side and you can see even top players missing chances.  I think the key will be whoever has the lead going into the final ten minutes, if Cork is up they will need to keep possession and be patient because Donegal can strike quickly on the break, whereas if Donegal are up they may be more suited to seeing the game out.
Seamus: I think Cork has the physical edge so that might just see them through, but as I said, possibly after a replay.
The All Ireland semi final between Cork and Donegal takes place on Sunday 26th August at Croke Park.
---
---
---